From Spring 2021 the Certified in Planning & Inventory Management (previously known as Certified in Production & Inventory Management), has been re-configured into eight sections as follows :-
| Diagnostic Part | Main Topic | Percentage of Exam |
| --- | --- | --- |
| I | Align the Supply Chain to Suport the Business Strategy | 22% |
| II | Conduct Sales and Operations Planning (S&OP) to Support Strategy | 10% |
| III | Plan and Manage Demand | 9% |
| IV | Plan and Manage Supply | 16% |
| V | Plan and Manage Inventory | 14% |
| VI | Plan, Manage, and Execute Detailed Schedules | 12% |
| VII | Plan and Manage Distribution | 3% |
| VII | Manage Quality, Continuous Improvement, and Technology | 14% |
Update of CPIM materials from version 6.x to version 7.x Spring 2021
We will guide our clients through this to ensure a smooth transition. The final day to purchase v 6.x Learning System is planned for 25th February 2021, with v6 exam credits available for purchase until 30th March 2021 - meaning an ATT conversion deadline of 30th September, (Re-sits after that date will be the v7 exam) and the v6 exam being discontinued April 2nd 2022. Whilst there are pre-sale opportunities for CPIM v7.0 materials from the end of Feb, the CPIM v7.0 exam launch date is 31st March 2021. This long overlap period should ensure peace of mind for any candidates who have embarked upon their CPIM journey late 2020 or early 2021 using v6.x materials.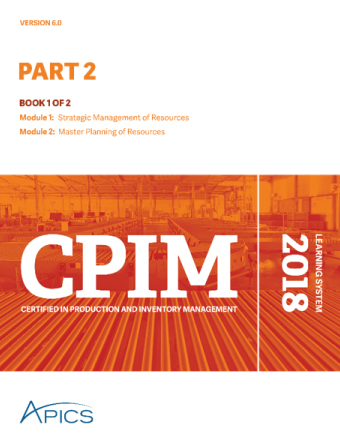 The CPIM Part 2 course - which replaces the previous four separate exam courses (MPR/DSP/ECO/SMR), explores in greater depth many of the topics introduced in the CPIM Part 1. The version 6.x exam will be split into the following four topic areas :-
ECM Diagnostic Part
Topic Area Covered
Percentage of Exam

I

Master Planning of Resources

Demand Management
Sales & Operations Planning (S&OP)
Master Scheduling
Distribution Planning

25%

II

Detailed Scheduling & Planning

Inventory Management
Planning Material Requirements to support the Master Schedule
Planning Operations to Support the Priority Plan
Planning Procurement and External Sources of Supply

25%

III

Execution & Control of Operations

Execution of Operations
Control of Operations
Quality, Communication, and Continuous Improvement
Design Concepts and Trade-Offs

25%

IV

Strategic management of Resources

Understanding the Business Environment and Developing Corporate Strategy
Developing the Operations Strategy
Implementing the Operations Strategy

25%
Please click here to view the CPIM Introduction Timeline.