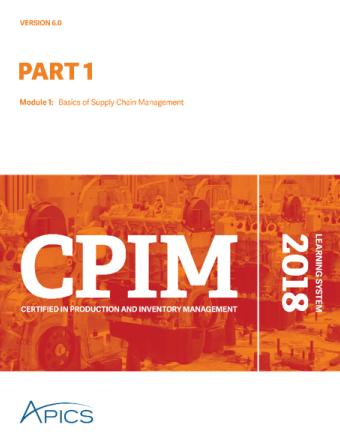 This course was previously known as Basics of Supply Chain Management but was updated late 2017 to include a selection of Technology Enhanced examination questions. In the CPIM Exam Content Manual  (version 6.0), APICS state that "The successful candidate will understand and be able to discuss the major management philosophies used in a supply chain. Emphasis is on manufacturing, but the examination also covers distribution, service, and retail industries. The understanding includes the fundamental relationships in the design, planning, execution, monitoring, and control that occur. The candidate should also understand :
Fundamental relationships among supply chain activities
Basic enterprise resource planning
Introductory measurement and continuous improvement"
The course is split into four main topic areas as follows:
ECM Diagnostic Part
Topic Area Covered
Percentage of Exam

I

Business-wide concepts

Supply Chain Fundamentals
Operating Environments
Financial Fundamentals
Enterprise Resource Planning (ERP)
Lean
Quality Fundamentals
Theory of Constraints (TOC)

25%

II

Demand Management

Market Driven
Voice of the Customer
Demand management

25%

III

Transformation of Demand into Supply

Product and Process Design
Capacity Management
Planning
Execution and Control
Performance Measurements

25%

IV

Supply

Inventory
Purchasing Cycle
Distribution

25%
The course documentation will cover the four main categories in the table above as ten sub-sections :-
Section A: Introduction to Supply Chain Management
Section B: Demand Management
Section C: Master Planning
Section D: Material Requirements Planning
Section E: Capacity Management
Section F: Purchasing
Section G: Inventory Management
Section H: Execution and Control
Section I: Physical Distribution
Section J: Continuous Improvement
Please click here to view the CPIM Introduction Timeline.