'For professionals who interact with supply chain management'

The APICS Customer-Focused Supply Chain Management (CFSCM) course is a seven-hour course / seminar designed to meet the basic informational needs of individuals who interact with and support supply chain professionals. The course, which builds upon the content of the previous Fundamentals course developed by APICS, will be offered by Hilf Supply Chain Solutions from mid / late 2012 onwards.
The course will increase participants' comfort and confidence with basic supply chain management (SCM) concepts so they are able to more fully participate in the cross-functional and inter-organizational processes of SCM APICS suggest that this instructor-led course is effective in meeting the basic SCM information needs of professionals in many disciplines, including, but not limited to
Customer Service Representatives
Human Resources
Engineering
Accounting
Sales / Marketing
Information Technology
Objectives of this course :- "Participants will be able to describe the basic terms and concepts, key elements, and operational activities of supply chain management (SCM), enabling them to more fully participate in the cross-functional and inter-organizational activities of SCM. In addition, you will be able to identify the areas of SCM where further studies may be needed and where improvement opportunities may exist".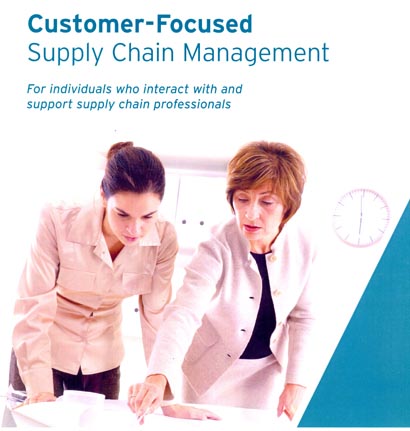 At the end of the session day, depending upon time, a multiple choice quiz (25 questions) will be presented to allow attending delegates to confirm their understanding of topics presented.
"Professionals at all levels and stages of their careers can benefit from this course. While this course is directly applicable to manufacturing and distribution, the customer service orientation of the material ensures its validity to individuals from a variety of industries including healthcare services, retail, hospitality, utilities, and others. Professional firms that provide services to clients managing supply chains, such as public accountancies and law firms, will also benefit from sending staff to this course".
Note, there is no formal certificate awarded on completion of this course. Candidates seeking a recognised certificate may wish to consider the longer BSCM (Basics of Supply Chain Management) course offered, which is the foundation module of the CPIM programme. 
Course Includes
Part 1: Defining customer-focused SCM
Basics of customer-focused SCM
The customer and SCM
Performance measures for SCM
Benefits and financial impact of SCM
Part 2: Key elements in customer-focused SCM
Globalization and SCM
Outsourcing and SCM
Risk management, security and compliance
Collaboration
Information technology
Lean/six sigma/agile/TOC
Service/product design
Sustainability
Section includes an interactive Lean activity
Part 3: Key processes supporting customer-focused SCM
Overview
Operational planning and control
Supply management
Distribution management
Key success factors
Section includes an interactive activity (APICS F30 Flyer) where SCM techniques covered are applied in the production of paper flyers in attempt for teams to make a profit.